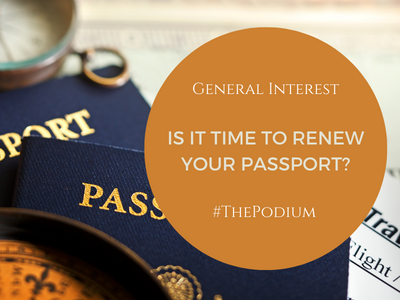 By Christine J. Flores, CBA
Those of you who have come to the realization that it's been far too long since you've had a proper vacation may also have come to the realization that it's time to renew your passport!  It is now easier than ever to renew your passport for many people, thanks to a pilot program being explored by the U.S. Department of State.  Under this pilot program, all information is submitted online, along with a photo and payment of fees.  There is no need to mail your current passport, the application, or a photo.
You are eligible to renew online if:
Your most recent passport is or was valid for 10 years, and you are at least 25 years of age;
Your recent passport was issued more than 9 years ago but less than 15 years ago [i.e., if your passport has expired, it has not expired more than 5 years ago];
You are not changing your name, gender, date or place of birth;
You are not planning to travel abroad for at least six weeks from the date your application is submitted;
You are applying for a tourist passport;
You live in the United States or one of its territories;
You have your passport in your possession and it has not been damaged, and you have not previously reported it as lost or stolen.
The process is quite simple. To start the process, activate a MyTravelGov account.  Once you have the account established, you will be notified.  It took less than 30 minutes, though it can take up to 24 hours.  All information is entered in a very user-friendly online form.  Payment of fees is made online using a debit or credit card, or ACH payment from your bank account.  You don't even have to go to Walgreens to have a photo taken.  Have someone take your photo against a white or off-white background, remove your glasses if you wear them, adopt a somewhat neutral facial expression and you're good to go.  There is a page that gives the specific size for the photo.
Once my account was established, it took less than 30 minutes for me to complete the application, crop my photo to size, pay the fees and submit the application.  The system indicated it could take between 8 and 11 weeks to process the application.  I was pleasantly surprised when I was notified that my passport was on its way to me in just over 30 days.  The passport is sent via Priority Mail, so it arrived in my mailbox about four days after I was notified it was on its way!  Now, all I have to do is plan that trip!
Since this is a pilot program, there is a limited amount of applications accepted each month.  If there is an indication on the website that they have accepted their monthly quota of applications, you may need to wait until the following month to submit the application.  For more information about this process, please click the link below.
https://travel.state.gov/content/travel/en/passports/have-passport/renew-online.html
Categorized in: General