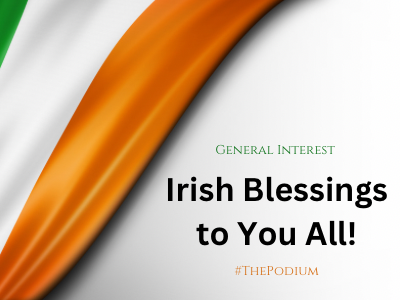 Christine J. Flores, CBA
St. Patrick's Day is almost here. Even if you do not have any Irish ancestry, it's hard not to love St. Patrick's Day. In many parts of the United States, it's a time of parades and celebrations. The cheer is infectious – especially if you have a neighborhood Irish pub to hang out in. Former President Dwight D. Eisenhower has been quoted as saying, "Everybody is Irish on St. Patrick's Day, but if your name is Eisenhower, you've got to wear something green to show it." A search of the internet has me convinced that the Irish know a thing or two about catchy, humorous, encouraging and wise statements. Below are some fun quotes regarding the luck of the Irish and what it means to be Irish, along with a few Irish Blessings!
May your blessings outnumber the shamrocks that grow, and may trouble avoid you wherever you go.
Wherever you go and whatever you do, may the luck of the Irish be there with you.
Never iron a four-leaf clover because you don't want to press your luck.
There are only two classes of people – the Irish and those who wish they were Irish." (Therese Duffy)
Saint Patrick was a gentleman, who through strategy and stealth, drove all the snakes from Ireland, here's a toast to his health. But not too many toasts, lest you lose yourself and then forget the good Saint Patrick and see all those snakes again.
Being Irish is very much a part of who I am. I take it everywhere with me. (Colin Farrell)
There is luck in leisure.
Luck is believing you're lucky. (Tennessee Williams)
Even when they have nothing, the Irish emit a kind of happiness, a joy. (Fiona Shaw)
What is Irish diplomacy? It's the ability to tell a man to go to Hell so that he will look forward to making the trip.
May the blessings of each day be the blessings you need the most.
I'm a great believer in luck, and I find the harder I work the more I have of it. (Thomas Jefferson)
May luck be your friend in whatever you do, and may trouble be always a stranger to you.
May the leprechauns dance over your bed and bring you sweet dreams.
May peace and plenty bless your world
With a joy that long endures
And may all life's passing seasons
Bring the best to you and yours
Always remember to forget
The things that made you sad.
But never forget to remember
The things that made you glad.
May your troubles be less and your blessings be more
And nothing but happiness come through your door.
Categorized in: General