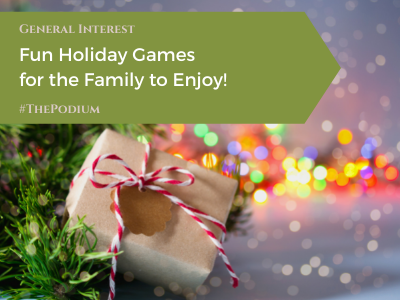 It's not a family gathering without some fun games to get everyone feeling jolly this holiday season. While researching for this post, I have compiled a list of games that the entire family can enjoy while celebrating the holiday season either in-person or virtually. Just take some of your favorite games, add a little creativity with a holiday twist, and the entire family can have a fun-filled time celebrating this holiday season.
Holiday Scavenger Hunt – you can either hide some candy canes or create a list of items to gather in your home that are related to the holidays. Host a timed event and have each member of the team take turns completing the tasks with the fastest time.
Christmas Bingo – just like regular bingo, print some holiday-themed cards and host a variety of games.
Guess Who – is a simple game that requires some post-it squares and a pen. Have someone host the game, write down some characters on the post-it notes. Have everyone choose one blindly and post the name on their forehead. Those participating will draw a square without looking, then post it on their forehead. You provide clues to get the person to guess the character. See who can guess the most in the fastest time.
Find the Pickle – have you heard of this one? It's a German game where you hide a pickle ornament on a tree. The first to find it wins. This is a fun one for the kids. If you don't have a pickle, pick an odd ornament to hide on the tree. If you have a relatively large group, host several searches so everyone has an opportunity to participate.
Name That Tune – holiday style. Pick a host, create a playlist, and host several rounds. Add points to each correct answer to see which team accumulates the most points.
Holiday Decorating Smackdown – get your crafts out and assign some teams. An adult with a child would be great. Assign everyone to make a particular holiday item such as an ornament, centerpiece, gingerbread house, or a Christmas tree. Select a panel of judges to select the best-decorated item. Display all items for everyone to enjoy.
Minute to Win It – just like those sack relay races, pick a holiday item, like candy canes. Create teams to pick up the candy canes by hooking them together with their hands behind their back by carefully caring them from one location to the other without dropping the candy cane. See who can complete this task at the fastest time.
Some of the above can be hosted virtually if you get a bit creative. If you lack creativity, there are a variety of games you can purchase that will be entertaining for the whole family. Here are two to consider:
Santa Cookie Elf Candy Snowman – a cute card game for all to enjoy. You can pick this up at your neighborhood retailer, such as Target for approximately $10.
Christmas Mash-Up Murder Mystery – a who done it murder mystery where everyone is a suspect of the murder of Ebenezer Scrooge. You can pick up this game at mastersofmystery.com.
These are just a handful of games that you can do that will be fun for the entire family. If you are hosting a virtual event, you can find some companies that can help you host some popular virtual games if you don't have the time to plan. Also, consider providing some prizes for the winners.
Games are a great way to bring the entire family together, have some fun and make fond memories this holiday season.
Categorized in: General