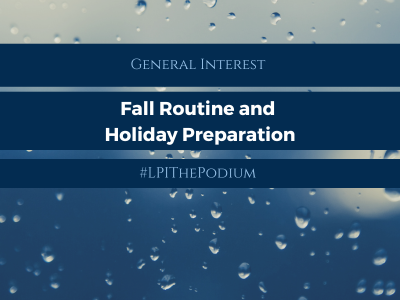 Getting back into a normal routine as the fall season begins and preparing for the holiday season can be a smooth and enjoyable process with some planning and organization. Here are some steps you can take:
Establish a Routine:
Set a consistent daily schedule for yourself and your family. This includes wake-up and bedtime routines, mealtimes, and designated homework or study times for kids.
Create a family calendar that outlines everyone's schedules, including school, work, extracurricular activities, and appointments.
Organize Your Home:
Declutter and organize your home to create a more conducive environment for productivity and relaxation.
Prepare storage solutions for seasonal items like fall and holiday decorations, winter clothing, and sports equipment.
Meal Planning:
Plan weekly meals in advance to save time and money. Consider batch cooking or using a slow cooker for easy weeknight dinners.
Incorporate seasonal produce and flavors into your meals for a festive touch.
Health and Wellness:
Ensure everyone in the family is up to date on vaccinations, including flu shots if it's the season for it.
Encourage regular exercise and healthy eating habits to boost everyone's immunity and well-being.
Back-to-School Preparation:
Stock up on school supplies, uniforms, and other necessities well before the school year begins.
Establish a homework routine and create a designated study area for your kids.
Holiday Planning:
Start thinking about your holiday plans early. Consider travel arrangements, guest lists, and potential gifts.
Set a budget for holiday spending to avoid financial stress.
Self-Care:
Don't forget to take care of yourself. Allocate time for self-care activities like exercise, meditation, or hobbies.
Communicate with your partner or support network about your needs and find ways to share responsibilities.
Connect with Your Community:
Engage in local fall and holiday-themed events or activities with your family to build community connections and create lasting memories.
Stay Informed:
Keep an eye on any COVID-19 guidelines and regulations in your area. Adjust your plans and routines as necessary to prioritize safety.
Flexibility and Adaptability:
Understand that routines may need to be adjusted as circumstances change. Be flexible and open to modifications when necessary.
Remember that the key to a successful transition into fall and the holiday season is preparation and balance. By establishing routines, staying organized, and taking care of your physical and mental well-being, you can navigate this time of year with ease and joy.
Categorized in: General