Time: Noon
Location: Zoom
Topic: E-filing and Other Court News at the United States District Court, Central District of California
Speaker: Nancy Hackney, CM/ECF Administrator
This informative webinar will include electronic filings on the Case Management/Electronic Case Files (CM/ECF) system, judges' procedures, latest changes to local rules, and other court news.
Nancy Hackney began her career with the federal court 21 years ago as a docket clerk and has worked in various capacities in the Clerk's Office. She was selected as a Courtroom Clerk to Magistrate Judges for several years and eventually became the CM/ECF trainer for the court. In addition to providing CM/ECF training to court staff, she worked with the CM/ECF Helpdesk Team to maintain the court's e-filing system and manage the day-to-day operations of the CM/ECF E-filing Helpdesk. Before she joined federal court, Nancy also worked in the state court's civil division in Los Angeles for ten years. Please join her at this informative webinar to learn tips on electronic filings and keep up to date with other federal court news.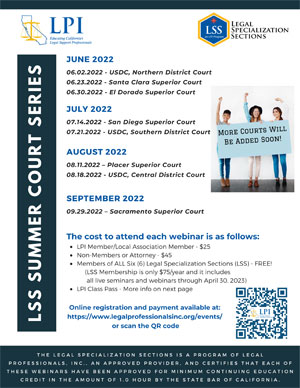 Registration is closed.