This webinar is part of the LSS Summer Court Series.
Time: Noon
Location: Zoom
This webinar will focus on how to submit documents without getting them kicked back. The court will also provide helpful information on the Drop-Box, local rules, internal routing, current turn-around times, and the rejection of documents.
Rebecca obtained a Bachelor's of Science in Criminal Justice and Human Biology from Sacramento State in 2009. Since 2006, she worked as a Coroner Technician performing death investigations in Sacramento County. In 2014, Rebecca began working for Sacramento Superior Court as a Courtroom Clerk. She was assigned to the Supervising Judge's department and has since promoted her way to Supervising Courtroom Clerk. Today she supervises the courtroom support unit which includes courtroom clerk, court reporter, and, probate deputy clerk units.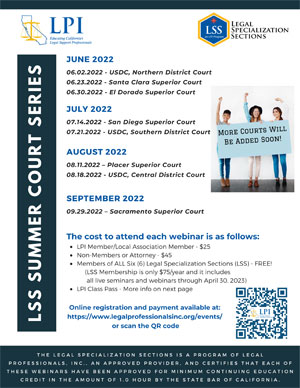 Registration is closed.