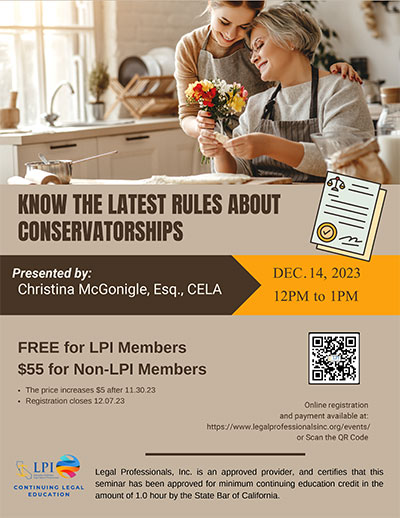 There have been numerous changes in conservatorship law since the #FreeBritney movement. Join us on December 14, to learn about the new laws that could affect your client or a loved one.
Christina McGonigle is a Managing Partner at McGonigle & Hunsaker, LLP, a law office that serves seniors, people with disabilities and their families. She graduated magna cum laude from Western State University College of Law in 2005. Prior to attending law school, she received her Bachelors degree in Political Science (cum laude) from California State University, Long Beach.
Ms. McGonigle is Vice-Chair of the Board of Directors of the Orange County Bar Association Section on Elder Law. She is also a member of the National Academy of Elder Law Attorneys and the Probate Section of the Legislative Resolutions Committee. Ms McGonigle serves on the Advocacy Committee of the Alzheimer's Association, and meets with the legislators to advocate for issues affecting seniors. Ms. McGonigle is a frequent presenter and community volunteer for organizations that serve disabled adults and seniors. Ms. McGonigle practices in the areas of Trust and Estate Planning, Special Needs Trusts, Trust Administration, Conservatorships, Litigation, and Medi-Cal Applications and Appeals.