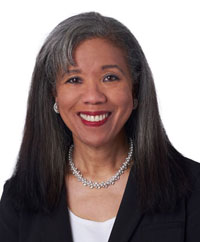 12:00-1:00PM
Speaker: Camille Hamilton Pating, Esq. of Meyers Nave
You'll need to follow the link in your confirmation email to register for the ZOOM codes.
The State Bar of California has now implemented Bus. & Prof. Code section 6070.5, which requires one hour of implicit bias and strategies to reduce it. Though unintentional, this bias can still be influential in the workplace. Learn how to recognize and reduce implicit bias, improving the morale and assurance for all employees in the workplace.
Camille Hamilton Pating is Chair of Meyers Nave's state-wide Labor & Employment Practice and Workplace Investigations Practice. She is a go-to independent attorney fact-finder for high-profile investigations involving elected officials, C-suite executives and leaders of non-profit organizations.
A well-respected expert in employment law for 35 years, Camille counsels employers on a broad range of issues including political speech on work platforms, anti-discrimination, harassment and retaliation laws, Title IX, reasonable accommodation and leave of absence issues, and hiring and separation processes. She is a thought leader in Diversity, Equity and Inclusion programs and initiatives and advises leaders in entertainment, technology companies and public agencies. She also develops and leads innovative training programs on bias prevention, investigation best practices and state and federal anti-discrimination and anti-harassment laws.
Camille is an experienced litigator advising and defending employers in litigation, arbitrations and disciplinary hearings and appeals. She served as a member of the trial team which won a unanimous jury defense verdict for the Chief of Police and City of Richmond against charges of discrimination, harassment and retaliation in a highly publicized case that was selected as a defense verdict of the year by the Daily Journal.
Camille has conducted nearly 200 investigations, including claims of harassment, hostile work environment, fraud, waste, abusive conduct, discrimination, retaliation, Title IX, police internal affairs, misappropriation, workplace violence, whistleblower matters and ethics violations. Having conducted numerous investigations for public sector employers, Camille is well versed in the Public Safety Officers Procedural Bill of Rights Act and the Firefighters Procedural Bill of Rights, as well as the Weingarten rights afforded to public employees. In addition, she provides appropriate corrective action advice to address issues often present in workplace climate investigations.
Registration is closed.