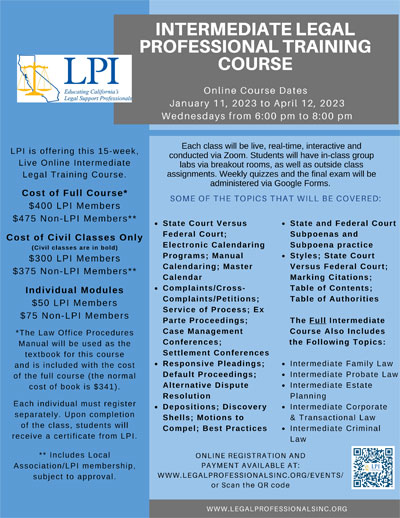 LPI is offering this 15-week, online course running from January 11, 2023 through April 12, 2023.
Wednesdays from 6:00PM – 8:00PM
Each course will be a live, real-time, interactive course conducted via Zoom. Students will have in-class group labs via breakout rooms, as well as outside class assignments.
Click here for the full description.
Each individual must register separately. Upon completion of the course, students will receive a certificate from LPI.
The Law Office Procedures Manual will be used as the textbook for this course and is included with the cost of the course (For the Entire Course Only) (the normal cost of book is $341)
A discounted rate can be arranged for firms or offices that wish to enroll a group of students.
Note: This course does not qualify for the class pass.