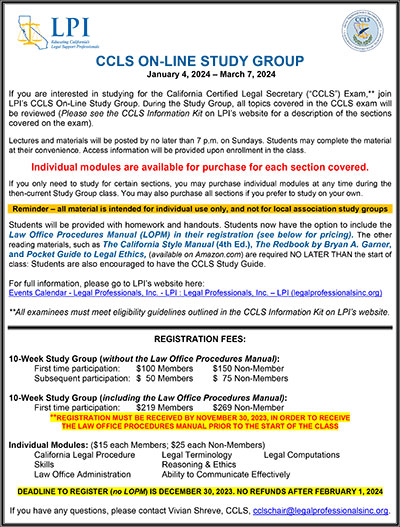 DEADLINE TO REGISTER: DECEMBER 30, 2023. NO REFUNDS AFTER FEBRUARY 1, 2024.
If you are interested in studying for the California Certified Legal Secretary ("CCLS") Exam,** join LPI's CCLS Online Study Group. During the Study Group, all topics covered in the CCLS Information Kit will be reviewed (Please see the CCLS Information Kit on LPI's website for a description of the sections covered on the exam).
Lectures (MP4) and materials will be posted by no later than 7 p.m. on Sundays. Students may complete the material at their convenience. Access information will be provided upon enrollment in the class.
If you only need to study for certain sections, you may purchase individual modules at any time during the then-current Study Group class. You may also purchase all sections if you prefer to study on your own.
Students will be provided with homework and handouts.
Students now have the option of including the Law Office Procedures Manual on this registration form (See below for pricing.).
The other reading materials (available on Amazon.com) are required by NO LATER THAN the start of the class:
Students are also encouraged to have the CCLS Study Guide (available on this site).
If you have any questions, please contact Vivian Shreve, CCLS, at cclschair@legalprofessionalsinc.org.
**All examinees must meet eligibility guidelines outlined in the CCLS Information Kit on LPI's website.
Each individual must register separately.
Click here for a PDF version of this form.