12:00-1:00PM
Speaker: Carla M. Clark, CCLS
This webinar will cover the basics of Canva.
Carla M. Clark, CCLS has over 25 years of experience working with civil litigators that specialized in personal injury, insurance bad faith, business, and construction litigation. She specialized in complex civil litigation and enjoys taking on the complex matters. For Carla, no case was too large to manage.
Currently, Carla has taken her years of experience and now owns and operates her own consulting, in-house training, seminar/webinar, continuing education and publication business which emphasizing on California Civil Litigation Rules and Procedures. She also holds seminars that emphasis on local rules and procedures in the counties of San Diego, Los Angeles, Riverside and Orange. She is also the editor and publisher of the Mary Alexander's Civil Litigation Manual. She is very excited that her production company is gearing up and will be back up and running in time to publish once again come January 2023.
She passed the CCLS exam twice, once in 2010 and again in 2021. She was the SDLSA CCLS Study Group leader for several years and proudly worked with, and took the test with the 7 most current SDLSA CCLS. She is so very proud of them. She was also the civil litigation instructor for the last 3 years that SDLSA held their Beginning Legal Secretary Training Course. She was nominated and selected as the 2011 SDLSA Secretary Cum Laude, and was presented with an award for her 2021-2022 Continued Commitment to Elevate SDLSA and LPI. She is a long-time member of the San Diego Legal Secretaries Association and has been their President since 2020.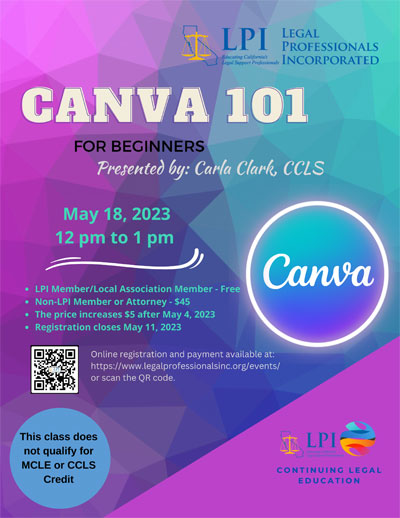 Registration is closed.