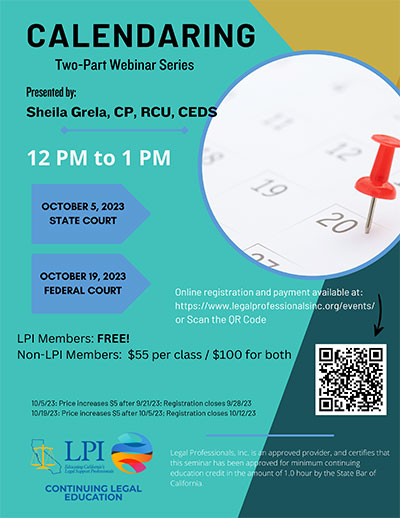 Calendaring, Part One – State Court
October 5, 2023
Noon
This webinar will demonstrate how to user-trigger dates and rules to calendar statute of limitations, filing deadlines, exceptions, and appeal deadlines. Learn how to reduce risks by following strict calendaring protocols.
Calendaring, Part Two – Federal Court
October 19, 2023
Noon
This webinar will discuss the fundamental differences between calendaring deadlines in the State Court and the Federal Court.
Speaker: Sheila Grela – Paralegal / Producer / Moderator / Author
You'll need to follow the link(s) in your confirmation email to register for the ZOOM codes.
LPI Members: FREE!
Non-LPI Members: $55 per class / $100 for both