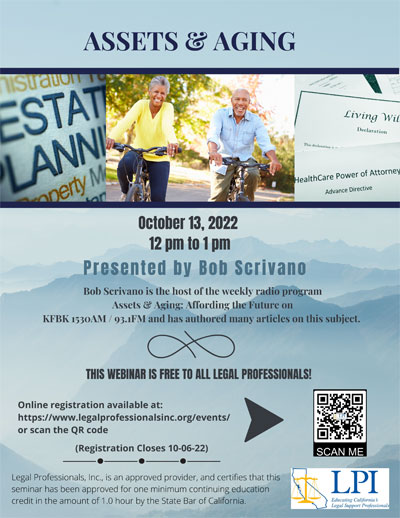 Free for all legal professionals!
Date: Thursday, October 13, 2022
Time: Noon
Location: You'll receive a confirmation email that will contain a link to follow in order to get your Zoom codes.
Speaker, Bob Scrivano, is an independent senior-care planning consultant based in Sacramento, In this webinar, Mr. Scrivano will speak about taking care of a loved one who has declining health. These new concerns can involve in-home care, assisted living, board-and-care or even a nursing home.
Based in Sacramento, Bob has been helping seniors and their families confront the challenges of aging for over 30 years. He specializes in estate documents preparation, care planning, asset retention, and all things Medi-Cal. He is the author of the book Navigating Frailty and hosts a radio program in Sacramento called "Assets & Aging: Affording the Future."
Click here to register.