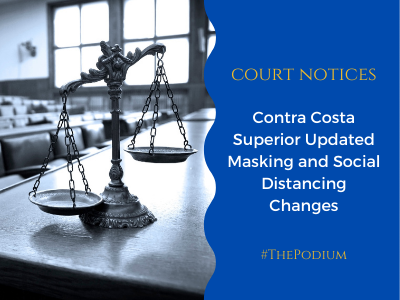 The Court updated its masking and social distancing guidelines effective June 21, 2021, and in line with state guidance, to permit fully-vaccinated individuals to access Court facilities without facemasks and to eliminate social distancing. On July 16, 2021, Contra Costa Health Services (CCHS) and health departments from surrounding Bay Area counties recommended that all members of the public remain masked indoors regardless of vaccination status.
Accordingly, effective July 20, 2021, and until further notice, anyone entering publically accessible Court facilities – regardless of vaccination status – will be required to wear compliant facemasks at all times.
Click here to learn more.
Categorized in: Court Notices