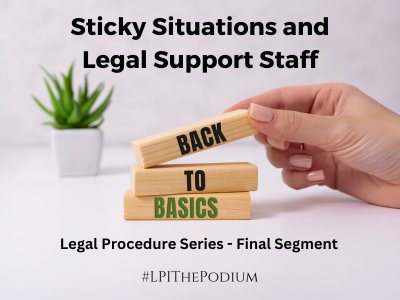 Part 5 of LPI's "Back to Basics" Series
(Final Segment in Series)
Those of us in legal support positions are often asked questions by clients or potential clients that can pose some potentially sticky situations if not handled correctly. Following are some common scenarios/questions and suggested responses should you be faced with one of these sticky situations.
Question: "Do you do such-and-such type of law?"
Why this is a sticky question – – You may work for a firm that only specializes in a particular practice area; however, you are not in a position to, nor are you authorized to, make a determination as to what type of cases your lawyers may handle.  You may work for a firm that handles many different types of law.  The same principle still applies.
Suggested Response: "You know, that's a good question. I'm familiar with most of the types of cases we handle but let me do some checking and get back to you if you don't mind.  Is there a number where I can call you back in a bit?"
Question: "I don't want to hire a lawyer. I just need a quick answer to a question. Can you help me?"
Why this is a sticky question – – You are being asked to provide information that could be construed as legal advice or providing a legal opinion.  You never want to put yourself in the position of someone being able to say, "Well, so-and-so at XYZ Firm told me I should do such-and-such."
Suggested Response: "I'm sorry, but I am not the right person to help you.  I'm not an attorney, but I would be happy to set an appointment should you decide you do want to consult with an attorney."
[NOTE: If your firm offers free consultations for certain types of matters, you might mention that if they would like to provide you with a little more information, you can see if there are any complimentary consultation appointments available.  If it turns out that your firm declines to offer the free consultation, this is a tactful way to let the caller know you don't have any appointments available.]
Question: "What do you mean, you have a conflict – – what type of conflict?"
Why this is a sticky question: The caller is asking you to disclose information that is confidential. If your office is unable to represent the caller because of a conflict, chances are it's because someone in your office either represented or had some sort of exposure to/interaction with one of the parties named in the conflict check, or perhaps even with the potential client or someone associated with them. Regardless of the reason, you must NEVER disclose the reason for the conflict.
Suggested Response: "The basis for the conflict was not shared with me, and even if it were, I would not be able to share it with you, as that information is considered confidential.  However, our attorneys would like to refer you to a couple of other firms you might want to contact to see if they can help you."
Question: "I have been leaving messages, voicemails, and sending emails, but I still have not gotten a callback or response from so-and-so. What do I have to do to get someone to respond to me?"
Why this is a sticky situation: Unhappy clients can be problematic if they don't feel they are being heard or getting what they pay for. An attorney's lack of response is usually not a deliberate avoidance of the client. Be careful that you do not take on the client's frustration and project that on the offending attorney, especially if you are the one who has been taking all those messages and forwarding all those calls to voicemail. You are likely not aware of the attorney's reasons for the delay in getting back to the client, nor are you expected to make excuses or offer reasons for the delayed response.
Suggested Response: "I do see that you have left several messages for so-and-so. Why don't I take a look at their calendar and see when they've got a free block of time for a telephone/Zoom appointment? Would that work for you?"
[NOTE: There are certain instances and certain types of law where there can be a real sense of urgency (either real or perceived) and the client truly does need someone to respond as soon as possible. If their attorney is unavailable or unable to respond at the time, check with a managing/senior partner or another attorney who practices in the same area of law to see if they can assist or would have a recommendation for the client in the interim.] 
Question: "How much do you charge for [fill in the blank]?"
Why this is a sticky situation: An attorney's quote for a consultation, a retainer for services, and the hourly rate they set for certain types of matters are all based on the amount of time and specific legal strategies the attorney feels will be required in order to effectively assist the client.  Therefore, just as each case is unique, so are the fees for each case.  Since legal support staff are not qualified to make that determination, neither are they authorized to discuss fees for legal services with clients unless specifically directed to do so by the attorney.
Suggested Response: "That's up to the attorney. Each case is different, so that is something the attorney would discuss with you when you meet with them."
Categorized in: Legal Procedure