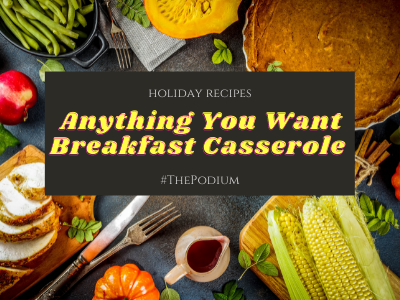 By Lynne Prescott (aka Lynnwood Earl's Kitchen Counter)
Caution: A word about make-ahead casseroles – – PLEASE take your casseroles out of the refrigerator at least an hour ahead of time before putting them in the oven if you are using anything other than an aluminum pan. Thermal shock is a real phenomenon and transferring your beautiful glass/stone baking dishes straight from the fridge to a hot oven can result in a broken dish and/or an exploding disaster in your oven.
BASIC RECIPE:
10-12 Eggs* (Egg Beaters can be substituted to cut cholesterol and calories!)
1 cup Milk (I prefer low-fat or fat-free)
1 cup Bisquick (Fiber-One Baking Mix works great, too)
1 to 2 Cups Shredded Cheese (your choice as to the type of cheese — do not use fat-free cheese)
Preheat oven to 350 degrees. In a large bowl, beat together the eggs, milk, and Bisquick until well-mixed. Add the cheese. Add ingredients of your choice (see below), mixing well. Spray a 9×13 casserole dish with non-stick cooking spray, then pour the mixture into the casserole dish and bake at 350 degrees for approximately 40 minutes, or until a cake tester inserted in the center does not show "liquid egg."
* I have found that the more ingredients you use, especially with a lot of meat and veggies, you'll need to use 12 eggs, rather than 10.
ADD "ANYTHING YOU WANT"
For an interesting bottom layer: Cover the bottom of the casserole dish with shredded hash browns or country potatoes, then pour the egg mixture over the top. For a sweeter casserole, tear slices of cinnamon raisin bread into pieces and cover the bottom of the casserole, drizzling with maple syrup before pouring egg mixture on top (do not use cheese when making this version, although you could tear off bits from a brick of cream cheese and use that) – use cooked ham, bacon or breakfast sausage when making this, and limit your veggies to just a bit of onion.
In the egg mixture: Chopped onion, garlic, chile peppers, mushrooms, cooked potatoes, olives, tomatoes, bell peppers or other veggies. Add any kind of shredded or chopped meat you would like: cooked bacon, ham, breakfast sausage or Italian sausage; cooked & seasoned ground beef (like taco-seasoned ground beef); shrimp, crab, lobster, scallops, smoked or cooked salmon; cooked chicken, turkey or pork; salami, pepperoni, etc. Add any spices or seasonings you would like: Tobasco, dill, Cajun seasoning, thyme, seasoned salt, Southwest seasoning, curry, salsa, Italian seasoning, etc.
Personal Favorites:
Leftover Enchiladas – chop up the leftover enchiladas into bite-sized pieces and mix it into the egg mixture. You'll have everything you need without having to add anything else – your meat, your seasoning, etc.
Leftover Pizza – Yep, you heard me! Take leftover pizza and chop it into bite-size pieces, mixing it into the egg mixture. Again, you've got everything right there – bread, cheese, meat, veggies, seasoning, flavoring, etc. Trust me, this is DELICIOUS!
Seafood – I use imitation crab since I am allergic to shellfish, but you can use the real stuff, shrimp, etc., and add mushrooms, green onion, a little Worcestershire sauce, a little Tony's Cajun seasoning, and Swiss cheese.
This recipe is only limited by your imagination – it's great for using up leftovers – just dump it in! Whatever you can think of to go in, it will probably work!
Categorized in: General