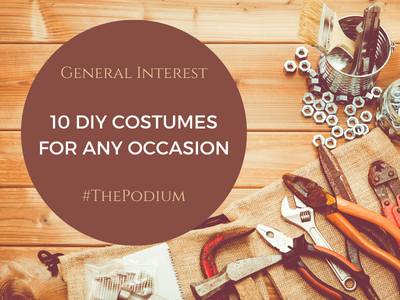 Your child comes home from school and says, "I need a costume for the school Halloween parade!" Or your office decides it would be fun to come to work dressed as your favorite hero in honor of Bosses' Day. Yikes! Just in time for Halloween, school plays, and holiday programs, here are some super ideas for creating that perfect costume yourself.
"Play on Words" Costume. How about a Black-Eyed Pea? Tan/brown sweatsuit, makeup to create a black eye, and a cut-out of the letter "P" to pin on your chest. How about a Deviled Egg? Dress in red clothing, use a hair band to make devil's horns, and pin on a printed photo of an egg.
Superhero. Leggings, tank tops, long-sleeved t-shirt, belt, and boots. Use these to create the foundation of your costume. Add things like a shield, wrist bands, masks, letters/symbols by using cardboard or poster paper and covering with foil, wrapping paper, etc. Capes are easily made from old sheets or pillowcases. Add sparkles, stars, etc. to jazz it up.
Animal. Leggings, long-sleeved tees, gloves, and flat shoes are the basics. Again, using a hair band to create ears is perfect. Add robe belt for a tail. Face makeup and a YouTube video are your best friends for completing this look.
Christmas Play. Bathrobes, belts, scarves, and towels make the perfect shepherd costume. For that little angel, use a white sheet folded in half with a cut-out slightly larger than the person's head at the top of the fold. Add a gold or silver cord for a belt, and a hair band with a halo made from tinsel. Elves are easy to create with some face glitter, striped socks, colorful pajamas, jingle bells, and a stocking/Santa hat.
Period/Vintage. Your best resource is the thrift store. You can usually find everything from prairie skirts to tuxedos; not to mention masks, wigs, jewelry, and hats!
Sports Player. If you don't have sports jerseys hanging around your house, the thrift store is again going to be a sure bet. You should be able to find helmets, pads, jerseys, hats/caps, gloves, and sports equipment to create that authentic look.
Cowboy/Cowgirl/Farmer. Jeans, plaid shirts, boots, vest, overalls, bandanas, and straw hat or Stetson-type hat. Yee-haw!
Cartoon Character. Wanna be a Smurf? Blue tights, matching blue long-sleeved tee, white pants, white gloves, blue face makeup, and a white beanie cap and you're all set! Teenage Mutant Ninja Turtle? Green sweats, headband, turtle shell made of cardboard, and green face paint. Dude!
Zombie. Tattered clothing and face makeup are all you need to be part of the Walking Dead!
Easiest. Costume. Ever. Matching sweats and a cut-out picture of a fruit or vegetable taped to your chest (i.e., orange sweatsuit and picture of an orange; red sweatsuit with small black dots all over, picture of a strawberry, and a green felt beret).
Categorized in: General