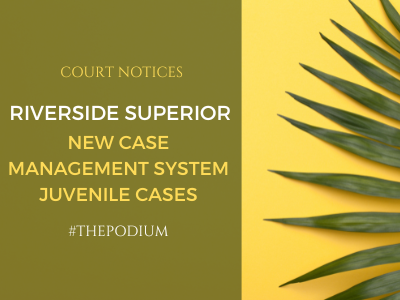 Effective July 5, 2022, the Juvenile Divisions with the Riverside Superior Court will launch the use of a new case management system called eCourt®. The new system will provide efficiencies for staff and enhance the court's ability to maintain complete and easily accessible records. Information about existing cases will be converted from the current legacy system to the new system in order to maintain the continuity of court records.
Please be advised that the transition to the new case management system will begin on Friday, July 1, 2022. Due to this transition, we ask that all juvenile filings and documents be submitted to the clerk's office no later than 3:00 p.m. on Friday, July 1st. Juvenile filings and documents submitted after 3:00 p.m. will be processed on Tuesday, July 5, 2022.
Click here to learn more.
Categorized in: Court Notices